BTA Drilling system
Common examples of deep hole drilling are characterized by high material removal rate and high accuracy with regard to the straightness of the hole, dimensional tolerances and surface finish. The extreme conditions which apply when drilling deep holes place high demands on the tool, machine and associated equipment.
Deep hole drilling applications are found within a wide range of industries, such as steel, nuclear power, aerospace, oil and gas. Here, high demands are placed on quality as well as dimension and shape tolerance
Workpieces can be very expensive and rejections can, result in economic consequences. Reliability during the operation is therefore usually given high priority. This means that the tools
and drilling systems which are developed to satisfy these require- ments offer qualities which, in certain applications, are desirable even when drilling short holes.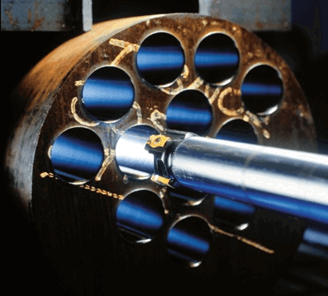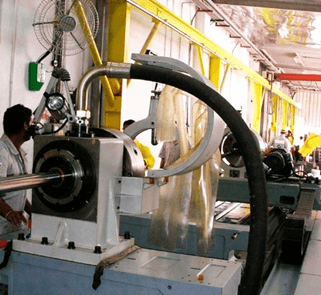 Deep hole drilling with BTA
Deep holes are defined by a high ratio between hole depth and hole diameter.
Deep-hole drilling is the preferred method for drilling hole depths of more than 10 x the diameter. During drilling, it is important that the chips are broken and that they can be transported away without jamming and affecting the drilled surface.
In deep-hole drilling, cutting fluid supply and chip transport have been provided for the development of three different systems that permit trouble-free machining of hole depths of over 100 x the diameter.
Single Tube System (STS)
Ejector system (two-tube system)
Gun drilling system
BTA is a world leading manufacturer of deep hole machining tools for these systems.
The tools are available as standard, special or Tailor Made® and can be delivered globally.
When to choose Ejector and STS systems
Single tube system (STS)
In materials with poor chip forming properties such as stainless steel, and low-carbon steel.
In materials with an uneven structure when chip breaking problems exist.
More advantageous for long series production.
Uniform and extremely long work pieces.
Requires special deep hole drilling machine.
Ejector System
Requires no seal between the workpiece and the drill bushing.
Adapted easily to existing machines, preferable in conven- tional lathes, turning centres, machining centres and horizontal boring machines.
For machining workpieces where sealing problems can arise.
• An advantage when it is possible to use a pre-drilled hole instead of a drill bushing for guidance, for
Gun Drill System
• For small diameters.
• Can be easily applied to machining centres by using a pre-drilled hole for guidance.
• Note: requires high coolant pressure.
Single tube system (STS) Ejector System Gun Drill System